Black News Link
Viewers can watch the launch of Black Headline News live online or thru a later television broadcast
By BHN
As the official launch of Black Headline News commences Wednesday morning, August 24 at 6 AM PST/8AMCST/9AM EST, viewers can watch it live on partnering Black Press websites (Texas Metro News, The New Citizens Press, ONME News, The Bay Area Review, The Westside Story News Channel) and on the Black Headline News (BHN) website, as well on the free Black Trade Circle app under "livestream." Viewers can also watch the event on the Roku channel if they already have a device.
The approximately five-hour, online broadcast will also be available on PEGMedia for TV distribution nationwide.
Viewers will get a chance to hear from the community partners involved, the origin story of Black Press members who are a part of Black News Link, and more about the BHN news anchors, commentators, and producers.
Below, people can learn more about the background of those organizations and Black Press who will be featured during the launch.
Black Media Initiative
Cheryl Thompson-Morton, a leader in promoting diversity and equity in the news industry, is the Black Media Initiative Director for the Center for Community Media at the Craig Newmark Graduate School of Journalism at CUNY. Thompson-Morton works to support Black media outlets through training, research, convenings, and connecting them to financial resources.
Previously, she was program director for the Lenfest Institute for Journalism in Philadelphia, where she created, launched, and executed several initiatives to increase equity in news media. These include the Lenfest Next Generation Fund, the Community Listening and Engagement Fund, and the Philadelphia News Ecosystem Collaboration Grant Program.
Thompson-Morton also led Lenfest's Diversity, Equity and Inclusion strategy, focusing on individual support to journalists of color, investment in news organizations owned by people of color, and newsroom collaboration programs.
She earned a business administration degree from Drexel University, where she graduated summa cum laude with a 3.93 GPA.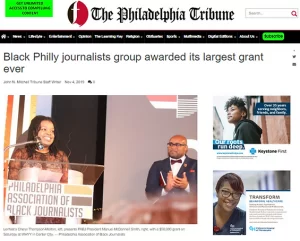 Ethnic Media Services
Sandy Close started her career covering China and Vietnam as an editor of the Far Eastern Economic Review in the mid-1960s.
She also founded the Oakland Flatlands, an inner-city weekly which she ran in 1965-66. She became editor of Pacific News Service in 1974 and was a pioneer in developing youth media, including YO! Youth Outlook, and The Beat Within, weekly writing workshops in juvenile halls.
In 1996, she founded New America Media, the first and largest collaboration of ethnic news organizations. Her work has received several awards, including a MacArthur Foundation "Genius Award" and the 2011 Polk Award for Career Achievement. In 1996, a film she co-produced, Breathing Lessons, won an Academy Award for best short documentary.
She founded Ethnic Media Services in 2017 to continue her work amplifying and elevating the voices of ethnic media.
BOBSA's Mission
Black-Owned Beauty Supply Association (BOBSA) president, Sam Ennon said his organization is the nation's largest Black-owned beauty suppliers. BOBSA's mission is to establish African American and Black Owned Beauty Supply Stores national and internationally. We are advocates for Black institutions that depend on beauty supply stores and their distribution networks for support to operate competitive hair care services for the Black community.
Twenty years ago, hair care products aimed at African American consumers were supplied by small companies and sold through independent beauty and barber stores. While that is still often the case, some of those small manufacturers have now become divisions of large corporations such as L'Oréal and Procter & Gamble Co., two key players in ethnic personal care today.
African American hair care products represent about 40% of the total category and according to industry suppliers in the business, hair care is ripe for a big year.
There are also a large percentage of women in transition from relaxed to natural hair, BOBSA provides a wide selection of hair care products targeting women seeking to purchase natural products. Among African Americans both physical and cultural factors influence purchasing decisions of such products as hair care items.
Blacktrade Lines
BlacktradeLines is a company that uses digital technology as a platform to empower African American Owned Businesses.
The Black Trade Circle app, available for free in the Apple App Store and Google Play Store, is a global business, social & trading network, as a Black community economic development project.
Black Trade Circle is one of the Black Trade Lines app family. The Black Trade Lines app's main focus is to encourage trade within the Black community to help alleviate poverty.
Black Press to be featured in launch
Texas Metro News
The Texas Metro News's mission is to inform, educate, enlighten, inspire, entertain, educate and empower, by providing thought-provoking news, photos, stories and commentary.
Texas Metro News is a Texas-based publication for people on the move and in search of news that is empowering and uplifting as well as informative and entertaining. On the pages you find information that focuses on trends, issues and varying opinions. It was designed for upwardly mobile men and women who want to stay abreast of the issues impacting their lives and those around them.
In addition to appealing to the broad audience, publisher Cheryl Smith gained as a popular, award-winning talk show host on Texas-based radio station KKDA-AM the publication focuses on empowering, educating, enlightening, inspiring and entertaining its readers.
Cheryl Smith is the Publisher and CEO of I Messenger Media Group, which includes the publications: Texas Metro News, Garland Journal and I Messenger. She also hosts a radio talk show, Cheryl's World, on Blog Talk Radio.
With over 30 years in the industry, working with some publications where she had to take a document from a thought to a complete document; Smith has excelled in all areas as an award-winning journalist.
Smith received her B.S. degree in journalism from Florida A&M University in 1980, and her M.S. degree in human relations and business from Amberton University in Dallas, Texas in 1986 and is lifetime member of the Delta Sigma Theta Sorority, Inc.
Smith has won numerous awards, most recently the Woman of the Year for the 100 Black Women, and in 2022 she was inducted into the National Association of Black Journalists Hall of Fame.
4Control Media, Inc.
Under their company, 4Control Media Inc., SOHH.com was founded in 1995 by the trailblazing duo of Felicia Palmer and Steven Samuel with the vision to build a hip-hop community on the then-burgeoning frontier of the internet. The visionary pair were so ahead of their time that they would meet with record execs about promoting their artist on the internet, only to be met with the question, "What's the internet?"
Twenty-five years later, SOHH.com stands as a pillar in the hip-hop community — the longest-running Black-owned destination for hip-hop news, music, lifestyle and culture.
The New Citizens Press
Rina Risper is the publisher and owner of the multicultural Michigan-based newspaper, The New Citizens Press. She is also the Executive Director of The New Citizens Press Community Action Network (TNCP CAN). TNCP CAN's mission is to raise awareness of stopping violence including domestic violence; to promote literacy programs; and to promote all forms of the arts, literary, expressive, and musical.
Rina received her B.A. in Sociology, with honors from City College of New York. She has worked for a law firm, the United Nations, a bank, the Michigan House of Representatives and Jackson National Life Insurance Company. In February 2002, The New Citizens Press debuted. It is published and distributed biweekly and has a readership of over 40,000 with a concentration in Michigan's Ingham County. The New Citizens Press provides readers with a wide array of information and current topics about people of all backgrounds.
She started the State of Our Health: Through the Voices of Our People after the death of her father in 2007. Since its inception in 2008, the program has served over 1,000 people. She also created the Poetry in the City program, which gives people an opportunity to perform on the Capital steps. A new venture started in 2017, is Read to Succeed, Write to Ignite. Rina has collected thousands of dictionaries and thesauruses to give to classrooms and teachers. She believes that success in life begins with a good vocabulary.
She reflects on during her life she has struggled with homelessness, assault and domestic violence had gripped her until fear was no longer an option. She says that God and his angels became the source of her strength and faith during times that seemed so dark.
She was the recipient of the A. Phillip Randolph "Unsung Hero Award" and the Kappa Alpha Psi Community Service Award She has also been featured on radio programs in Pennsylvania, Michigan, and California. She was the recipient of the Lansing Black Chamber of Commerce Community Pillar Award and the Business Excellence Award went to The New Citizens Press (Rina Risper) given by the National Association of Negro Business and Professional Women's Clubs.  She was recently awarded the Lansing for Cesar E. Chavez Committee  Humanitarian Award.
Rina is very active in the community and volunteered for Open Door Ministries and EVEs House. She personally works one on one with individuals in the community helping them find the resources they need to be successful, especially the homeless population and those impacted by murder or violent crime. Rina also enjoys Facebooking and exploring Michigan. In 2011, she began hosting The New Perspective radio show on Michigan Business Network. She also was the President of the Walnut Neighborhood Organization and successfully managed to broker a deal with a large corporation to benefit the community at large for years to come.
Rina's other love is poetry. She created the Nu Poet Collective, which puts on a free "Poetry in the City" series in local establishments. She is working on her book "Somewhere in Between". She volunteered to teach poetry at Shabazz Academy and has been the mentor to the journalism class at Pleasant View Middle School for years.
The New Citizens Press Community Action Network (TNCPCAN) is organized for charitable and educational purposes in order to receive and administer funds for developing and implementing programs that promote arts, youth education, and growth workshops/seminars, along with support programs and partnerships with other organizations and minority media.  TNCPCAN was founded by Rina in 2012 and serves Michigan communities and beyond.
She was also a member of the Lansing Black Chamber of Commerce and Lansing/ DeWitt Sunrise Rotary. She has been a member of the Greater Lansing Convention and Visitors Bureau for many years.   Her motto is Live Simply. Take Chances. Love People!
Sheila Solomon: Strategic Alliance Manager at Rivet360
Sheila Solomon's career has taken her from the newsroom to the boardroom. The award-winning former newspaper reporter and editor has worked for numerous newspapers and now is Strategic Alliance Manager at Rivet360, an audio production company based in Chicago.
She's vice chair and a co-founder of Journalism Funding Partners, a nonprofit helping to secure and manage grants to support local journalism, president of the board of City Bureau and serves on the board of Growing Community Media. Among her honors is being inducted into the Scripps Howard School of Journalism and Communications Hall of Fame at Hampton University (her alma mater), receiving the Ida B. Wells Award given by Medill and the National Association of Black Journalists, and the Chicago Headline Club's Lifetime Achievement Award. Sheila is a judge for the National Headliner Awards and a member of the leadership team for The Obsidian Collection.
Minnesota Spokesman Recorder
Charles Hallman is a longtime reporter-columnist for the Minnesota Spokesman Recorder, the oldest Black newspaper in the state, now celebrating its 88th year. Since 1990 he has covered sports from prep to college and the pros, especially women's sports. He is the longest tenured beat writer for Minnesota Gopher women' basketball and volleyball, as well as the Minnesota Lynx and Minnesota Timberwolves, he covered since their inception. He frequently writes about overlooked and underrated Black female and male athletes as well as many Minnesota sporting greats. Hallman is perhaps the area's only media person who covered both Minnesota head basketball coaches Lindsay Whalen and Ben Johnson also, as players.
Hallman is most proud of the fact that he and the late Kwame McDonald waged a two-man campaign in print to get Linda Roberts' No. 21 jersey retired and hung in the Williams Arena rafters, an oversight finally rectified in 2006, 25 years after she finished his legendary Gopher career as the school's first Black female superstar.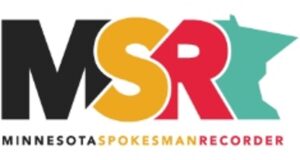 Hallman studied journalism at Michigan State University, earning two degrees (BA, 1977; MA, 1982) and have worked in print, magazine and radio for over four decades, as well as taught in St. Paul elementary schools for nearly 20 years. He also is the longest tenured coach in the Minneapolis City Conference, just finished his 27th year as a South High assistant boys varsity coach.
Among his numerous awards and honors, Hallman became the first Black Press member to be inducted into the U.S. Basketball Writers of America Hall of Fame (2022) and the first Black male to win the WBCA Media Award (2022) and named in 2021 as one of 50 individuals on the Minnesota Title IX Honor Roll.
Black Iowa News
Dana James
is the founder of Black Iowa News, which produces the Inside Black Iowa Newsletter. The award-winning writer is a former Des Moines Register reporter. She earned a Bachelor of Arts degree in journalism from Grand View University.
Having grown up in the area, she's seen the impact local news can and has had on her community. James worked at the Des Moines Register until 2006 when local newsrooms began downsizing. She transitioned to working in other corporate positions for over a decade, but when the COVID-19 pandemic hit, she saw the way Black individuals were being disproportionately impacted and with that a new opportunity to inform her community. Having previously attempted making what she called a "mini-CNN," James turned to Substack when starting Black Iowa News as a way to avoid the technical, back-end issues that accompany formatting and running a website.
Through Black Iowa News, James shares vital news during a time when, for many, access to accurate information is the difference between life or death. She is able to showcase her community fairly, while also reminding her audience that today's Black narratives and experiences are deeply rooted in the past.
The Intersection Magazine
Delonte Harrod
, CEO and Founder of
The Intersection Magazine
, is a multimedia reporter, editor, and photojournalist with 12 years of experience in reporting on civilian and military communities. He holds a master's degree in journalism from Regents University. In addition to his role at Assure Press, Delonte writes and edits feature stories, editorials, and hard news covering topics including religion and politics in the African-American community, military policy, culture, and entertainment.
The Intersection's first article was published on Medium.com, 2018, on the potential impact of automation on Black workers. In 2021, The Intersection became an LLC. The Intersection is a Black-owned and operated publication. The Intersection will honor the Black Press's tradition, which has sought to tell untold stories. It will report on the full lives of community members.
And here is the mission of the magazine according to Harrod, "At the Intersection, our mission is to report on the political, religious & non-religious lives of Black people as well as other people of color in the southern region of Prince George's County. Additionally, we will amplify the voices of those who are positively and negatively impacted by poverty & local policies."
LittleAfrica News
Mona Davids is a communications, public relations, and government affairs professional offering 24 years' experience in media relations, public policy advocacy, and international affairs working with organizations in the US, South Africa, and Tanzania. Mona holds a B.A. in Social Sciences and a MA in Communications.
Born in South Africa and raised in Bed-Stuy, Mona is known to most New Yorkers for her education advocacy as the President of the New York City Parents Union and Founder of the NYC School Safety Coalition.
As a result of her advocacy work, communications and consulting expertise, Mona has cultivated excellent relationships with elected officials, editorial boards, think tanks, education reporters, political reporters and bloggers.
Mona is recognized as a valuable and reliable source on education, political, community, and labor related issues.
An expert on the Africa Growth & Opportunity Act (AGOA) – working closely with the U.S. Commercial Service and in partnership with multinational banks, including JP Morgan Chase and CitiCorp – Mona has organized investment conferences on AGOA and the former Overseas Private Investment Corporation (OPIC) now the US International Development Finance Corporation (DFC) in the U.S. and Africa.
Prior to starting her own company in 2003, Mona worked for Dutch companies Schiphol USA Inc. — on their successful Build Operate Train Transfer (BOTT) for JFK Airport's Terminal Four — and MeesPierson Investment Bank. Mona has appeared on CNN, NBC Nightly News, Fox News, NY1, ABC7 News, Fox 5 NY, WCBS Channel 2 News, WABC Channel 4 News and Al Jazeera News. Mona has been quoted by the NY Times, NY Daily News, NY Post, TIME Magazine, NY Post, Legislative Gazette and other papers throughout the country.
About LittleAfrica News
We are a Proudly African, South African, Cape Malay, immigrant, women-owned, multimedia news outlet available online and in print. We are based in New York City.
Our owners are Mona Davids and MymoenaKalinisan-Davids, mother and daughter.
We are the only print newspaper that covers the full African diaspora, which includes Black immigrants from Africa, the Caribbean, Central and South America.
1.1 million Black immigrants live in New York City as of 2019, including African, Caribbean, Central and South American immigrants. (4.3 million Black immigrants in the U.S.)
New York City has the largest population of African immigrants in the U.S.
New York City has the largest and most diverse Caribbean community outside of the Caribbean.
As of 2018, there are over 550,000 Black immigrant registered voters in New York.
LittleAfrica News is here to deliver hard-hitting news and cover stories relevant to our communities. We cover local, national, and international news. Our newspaper is available in over 400 locations in New York City and distributed by National Distribution Alliance (NDA).
Chicago Defender Managing Editor Danielle Sanders
Danielle Sanders is a multimedia journalist, entrepreneur, writer, and content creator. With more than 20 years of experience, she focuses on news, entertainment, and music. Currently, Managing Editor at the Chicago Defender and News Operations Manager at Real Times Media, she is also the owner and founder of "Black Widow's Web," a website dedicated to the Chicago Entertainment Scene and Culture. In addition, she serves as Media Relations Manager for the Summer Oasis Music Festival held annually in Idlewild, MI, and the Imagine No Music Festival held annually in Punta Cana, Dominican Republic. A frequent contributor to the Chicago music scene and culture, she is featured in the award-winning documentary film, "Thee Debauchery Ball." "It Started in Chicago" and the book, "In Their Own Words" by Jesse Saunders.